Wedding Portfolio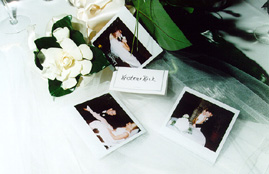 Columbus Crew, MLS and US Soccer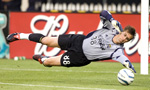 Live Entertainment
NHL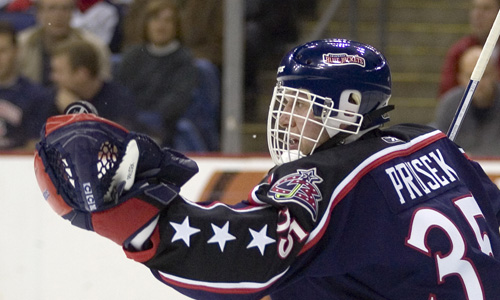 Aviation Images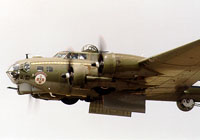 It has been a long journey from his roots as a musician to the status Greg Bartram currently enjoys as a sought-after sports photographer and wedding photojournalist. Starting out as the bass player for Columbus-based Geffen recording artist, The Toll, he also served as the band's publicist promoting the band through the twenty-two state touring circuit it had established prior to signing the recording contract.
After two critically-acclaimed but ill-supported record releases, Bartram began his photographic career as a sideline photographer for the Ohio Glory of the World League. That winter he photographed his first hockey game for the Columbus Chill (East Coast Hockey League). Bartram himself thought the game images he created in that first weekend were "brutal and useless" except for one image of a young Chill fan wearing an old-style goalie mask
and holding a hockey stick. This image became a program cover, and encouraged him to continue. Attacking the game tenaciously with his cameras, his game photos soon filled the program. By the next season, the Chill had chosen Bartram to be the official game photographer. Over the next six years, his skill at documenting the sport of hockey grew exponentially from that first weekend, and during his last three years with the Chill he received regular requests from The Hockey News for game photos, the only photographer in the East Coast Hockey League to be so honored. He was also contracted by the league to provide photography for the 1999 ECHL All-Star game in Biloxi, MS. He is also the team photographer for the Columbus Crew of Major League Soccer.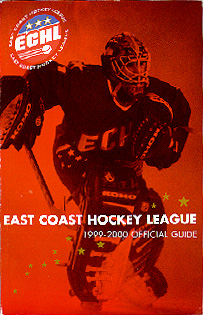 Bartram photographed his first wedding after two Chill fans stopped him at a game and, holding up a recent game program, told him that they loved his action photos. They then asked him if he did weddings." I told them 'Of course I do'", Bartram later remembered. Then he thought to himself, 'What have I just done?' The couple was ecstatic with his work, which encouraged him to pursue wedding photography leading to where betterImage is today. With his combined background as a musician and sports photographer, Bartram brings an unusual perspective to wedding photography. "I like to make images that will interest me. If I can find something interesting in a photograph of people I don't even know, then that will make it that much more meaningful for the couple whose family or friends are in the image."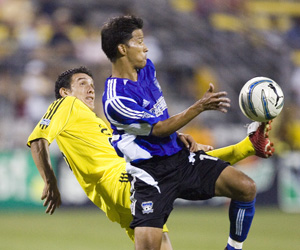 Bartram sees a wedding as a series of borrowed moments, rather than a collection of captured events. He describes his approach to photography as keeping his head on a swivel, looking for the things that make each event a story unto itself. That allows each event to remain as different from the last as one snowflake from another. In 1999, betterImage photographed 38 weddings or Bar/Bat Mitzvahs.
betterImage is also branching out into concert photography. Combining his experience as both sports photographer and rock musician gives Bartram a unique perspective into this new direction. In a very short time, he has already added Counting Crows and the B52's to his client list.
Partial Client List
The Hockey News, The Ramones, CEO Magazine, Counting Crows, The B52's, Worthington Industries, The Columbus Dispatch, Geffen Records, East Coast Hockey League, AT&T, Budweiser, Old Kent Mortgage, Columbus Quarterback Club, Archie Griffin Scholarship Foundation, Columbus Blue Jackets, Ohio Magazine/Dispatch Publishing, Catholic Social Services, FoxSports Ohio, Friends of Voinovich, Ashland Chemical, Columbus Clippers, Columbus Chill, Columbus Crew, Columbus Xoggz, Columbus Guardian, Columbus Blue Jackets, Hanlin-Rainaldi Construction, Honeybaked Ham, Hooters Restaurant, Jacor Columbus, Rolling Stone, WHOK K95, WNCI, 93.3 Lite FM, Lord Sullivan & Yoder, The Ohio State University, Newcome Electronics, The Ohio Expositions Center, The 1999 and 2000 Ohio State Fair, Pathlore Software, Tansky Toyota, Team Rahal, TicketMaster, Upper Arlington Rotary Club, COSI, Nationwide Arena, Ohio Historical Society, Shell Oil, CD101, CEO Magazine, Taft for Ohio, Idaho Steelheads, Phoenix Mustangs, Rolling Stone magazine, Miller Racing, Easter Seals, World Harvest Church, Juanita Bynum Ministries, Pastor Sheryl Brady.